PTP Blister Foil Description:
PTP blister foil is abbreviated from "Press through Packing", in Europe, "PTP" is known as "Press through Foil", in China, PTP blister foil is named "Pharmaceutical PTP blister foil", PTP blister foil that is also known as blister foil or push-through lidding foil is offered for heat sealing with PVC, PVDC, PP for pharmaceutical purpose in blister packing process, such as capsules, tablets, pill, etc.
Basic configuration of PTP aluminum foil is Protect layer (OP)/ printing inks/ Aluminum foil based-material (AL)/ Bond (VC).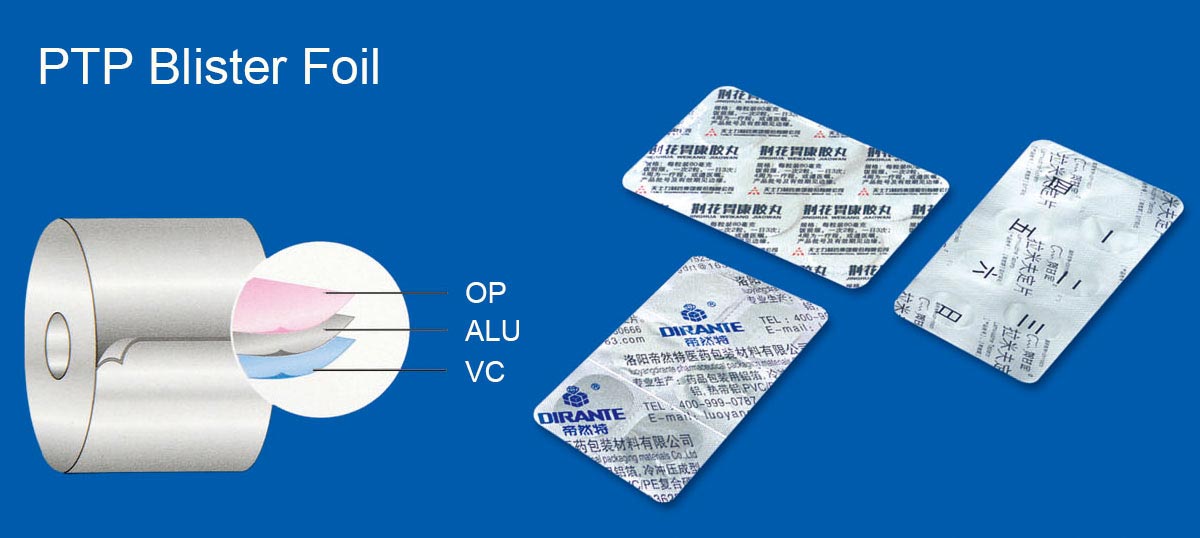 PTP Blister Foil Specification:
Name
PTP Blister Lid Foil / HSL Alminum Foil
Structure
OP 1.0 gsm / ALU 20-30 mic/ VC 3-8 gsm
Specification
Width: 100 - 1000 mm;
Thickness: 20 - 30 mic;
Core ID: 76 mm, paper core;
Roll OD: as purchasing order.
Technical data of PTP aluminum foils are offered as follows:
Foil Material
Full hard ( H 18 ) aluminum of alloy grade AA -8011 comforming to aluminum Association , USA , and specification
Foil thickness options
0.024 ± 10% ( Foil gsm = 60.00 ± 2 ) 0.030 ± 10% ( Foil gsm = 75.00 ± 2 ) 0.034 ± 10% (Foil gsm = 86.00 ± 2 )
Foil Surface options
One side bright & other side matt
Sealant
Heat sealable lacquer coating wt. : 3-5GM, coating surface ( dull or bright will be as per purchase order . ( Coating gsm options available 6-8 ).
Printing & lacquer Coating
Printing will be done as per artwork and original piece sample approved by the customer. For non-printed specification clear lacquer to be coated as a protective coating and good printability. Printing inks and lacquer coatings are capable to withstand 160 ℃ for 1 sec. dwell time. Ink Adhesion will pass cellotape test at medium rate of pull ( 100 mm / sec ).
Winding Direction
Printed or clear lacquer side is out in the finished reel unless otherwise specified in purchase order
Core
As specified in purchase order : Material : Plastic , Aluminum or Coardboard. ID 76 mm , with a tolerance of ± 1 mm .
Splices
Butt type with 50 mm red heat - resistant tape. Avg. number of joints < 2 per reel.
Reel O.D .
80% of the reels in a consignment will have OD 250 ± 10 mm and rest may have smaller OD. For Jumbo rolls OD will be 350 ± 10 mm
Roll width
As specified ± 0.5 mm
Identification
Each reel is identified with a ticket having Reel No., Specification, and Mfg. date.
Packing
Pharma foil reels are packed in cardboard carton. Reels are putted in the PE bag and packed with corners and foam side protectors. Jumbo reels are packed in wooden box in suspended condition with necessary poly film wrapping, corners and foam side protectors .
Marking
Order No., Batch No., Gross & Net Wt. and other details as agreed mutually with customer
PTP Blister Foil Features:
Blister packages, sometimes called bubble packs, are made of a cardboard backing with individual pills or groups of pills inserted into a small plastic pouch that is covered by foil on the back side. This type of pharmaceutical packaging is often referred to as unit-dose packaging, because one blister equals one dose. Unit-dose packaging is often used by nursing homes and long-term care facilities because it is easier for staff members to count the remaining medication and to distribute it properly to patients. Easy-to-open blister packs are also helpful for patients who struggle with bottles or vials for medications they take at home.
PTP blister foil features oxygen resistance, moisture proof, leak proof, pollution proof, light proof, light weight, high tension strength and low shrink, and a degree of tamper resistance, and PTP blister foil can be easily cut in automatic production line, moreover, being easy pressed through of PTP blister foil distinctive character, comparing to other packing material, which ensures drugs can be drawn out easily.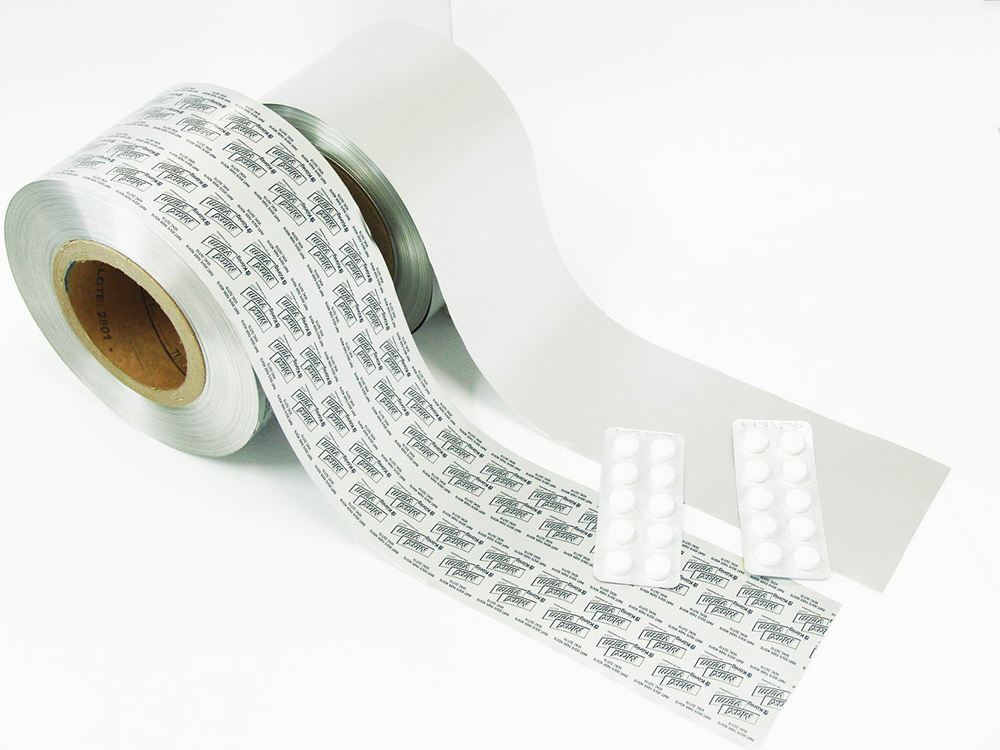 Dirante PTP blister foil are manufactured by the proven technology, the qualified materials, the state-of-the-art machines and skilled workers to meet the high quality requirements of the pharmaceutical & food Industry, and it is registered and active in China FDA Bureau now.
Pharmaceutical Aluminum blister foil is coated with primer and heat sealing lacquer on different side of plain aluminum foil, but without printing.

The primer coating is suitable for printing in customer's plant, by solvent/ alcohol-base ink. It also withstands the high temperature of heating during blister packaging process, to guarantee the printing layout.

The heat sealing lacquer is food grade, and easy to seal with PVC, PVC/PVDC, Alu-Alu bottom foil, PP, etc, by heating on blister packaging machine.

PTP aluminum foil can be unprinted or printed. Printed foil can be printed on one side or both sides.
Printing of PTP aluminum foils can be available in plain foil(no printing), printing foil (one-sided printing, two-sided printing, single-color print, double color printing, polychrome printing), color foil (one-sided golden color, two-sided golden color, green bottom color, each kind of colored bottom color), forgery-proof (stealth writing, design, positive and negative printing), while single side or double sides printing assure better appearance upon request.
Perfect printing ensures no fading after being sealed;
Plain or printed aluminum foils for blister packs are used mostly in the pharmaceutical industry to package tablets and capsules in a manner that they remain protected from ambient contamination. These are hard aluminum foils where one side is coated with heat seal lacquer and the other side is unprinted or printed to facilitate pharmaceutical blister packaging. Most common foil thicknesses used in pharmaceutical blister packaging are those of 20µ/25µ/30µ. The heat seal lacquer is a colorless vinyl resin conforming to the applicable international regulations for pharmaceutical applications. The HSL is suitable for heat sealing to PVC/PVDC coated PVC films. The range of HSL can vary from 4gsm -8gsm depending on the speed, product and packaging.
Application and Usage for PTP Blister Foil
Blister pack for chewing gum, mints, etc
Blister pack for medicines in tablets, capsule, softgel, etc

Blister pack for healthcare products in tablets, capsule, softgel, etc

Since the product is individually sealed into each blister, it is easy to carry and friendly to customer to consume as the using indication printed on the lid foils. Meanwhile the manufacturer's name or logo printing is another good way to promote and market your products and company.
PTP Blister Foil Features:
Processing of printed blister foil: